Have You Been Crucified With Christ?
Robert Pate

...[S]piritually we have been crucified with Christ.
We are one with Christ (Gal. 2:20), separated (Gal. 6:14), sanctified (Rom. 6:6) and devoted to him (1 Cor. 2:2). When faith is real,

our lives will show transformation (1 Thess. 1:9, 10). No transformation?

You're a fraud (Mt 7:20).

daqq

No one receives the Promise until after having done the will of Elohim...

You can't do his will.

Sinners sin. That's what they do (Ro 8:8).

I don't expect a blind man to see, a deaf man to hear or a reprobate to love. When you allow God to turn on your eyeballs, open your ears and turn your heart from stone to flesh, then, you'll live. That hasn't happened? You're a walking corpse.
Is 6:10

"He´ll live."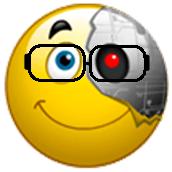 ~ T101, The Terminator II
jsanford108

[To another member] Do you believe that Christ atoned for the sins of the whole world, both the saved and the damned?



Something about

Jn 3:16

that is unclear to you?

He didn't say
part of
the world,
some of
the world. He said--the world. Do a word study on
the
and
world
.

You speak only for yourself from and of yourself...

Let the reader decide (Eph 4:14).

[Pitting

Comparing
2 Pet. 1:20
,
21
] As a matter of fact you inadvertently spoke true [sic], when you thought you were poking fun...

Tell me all about what I thought (Eph 4:14).

...but at the same time you ridiculed and made light of exactly what the Testimony of both Yeshua and Paul tell...

Let the reader decide (Eph 4:14).


Tell me all about what I believe (Eph 4:14).

[D]id I not say that I am not your mind reader?

You did--and then you told me what I thought about various verses of scripture (Eph 4:14).

You appear to believe you have the wisdom of a serpent...

I do? 1 Co 1:27 What else do I believe?

Eph 4:14

If you want to be wise, be pure (Jas 3:17).

You apparently believe it is your calling to make lists of those whom you deem as belonging to "Satan Incorporated"...

This list?

Eph 5:11
Who told you to judge other human beings?
Pr 31:9



See:

Should Christians Judge? Judge Rightly Is Not Some Guy's Name by Bob Enyart


I'm on other sites, as well (Ac 20:20).

Tell me all about the remaining beam in my eye (Eph 4:14).



You have already been weighed in the balances and found wanting.



Tell me all about what's in the scale (Eph 4:14).



You sure like to talk about yourself...



Tell me all about my love for discussing myself (Eph 4:14).
[ Tell me all about my love for discussing myself (

Eph 4:14

). ]

Eph 4:14

...and he is Legion...

You're projecting again (Eph 4:14).

And he asked him, What is thy name? And he answered, saying, My name is Legion: for we are many [Mark 5:9].

"The answer of this man is baffling but it's not bad grammar. He says, "My name is …" indicating that the man was trying to speak, but then the demons take over and they say, "We are many."" McGee, J. V. (1991). Thru the Bible commentary: The Gospels (Mark) (electronic ed., Vol. 36, p. 64). Nashville: Thomas Nelson.


Satan would like men to think there is no hell because he'd like people to go there. Hell was not prepared for man. It was prepared for the devil and his angels (Matt. 25:41). If you insist on going there, you will. Men who refuse to humble themselves before the Lord will go there. 2 Thess 2:10



Does hell exist as a place of punishment?



In hell punishment is everlasting (Matt. 25:46).
Moving the Goalpost Eph 4:14
whole world. If a sin has been atoned for, then there is no need of punishment for it.

Christ died for you (

Jn 3:16

). You must appropriate that gift (

Rom. 5:1

).


Right. Satan will be bound for 1000 years (Re 20:2), let loose (Re 20:3) and then end up in the lake of fire (Re 20:10).


Something about appropriating the gift that you don't understand? Ro 5:1 The wrath of God abides on the man who fails to humble himself before him (Jn 3:36).

Have You Been Crucified With Christ?